We are a canine breed club, located in Northern England and Scotland, for all Frenchie enthusiasts that own, have owned or would like to own a French Bulldog.

Even though we are based in the Pennines and Scotland we still welcome members from where ever you may live. If distance means you are not able to take part in any of our events, our online community can provide you with information, support and advice in most Frenchie related aspects.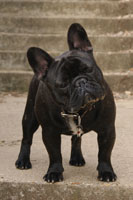 The main aims of our club are;
* To promote the interests of the French Bulldog and its enthusiasts and to promote knowledge and understanding of the breed, throughout Scotland and Northern England.
* To encourage participation in and organise activities amongst French Bulldog owners and enthusiasts, including breed specific shows, rallies, match meets, educational seminars and social events. To encourage the involvement of young people in the breed.
* To promote the health and welfare of the French Bulldog through ethical breeding and ownership practices and by means of the French Bulldog health scheme.
* To encourage the application of the Good Citizens Scheme amongst French Bulldog owners.


Visit our Facebook page